Welcome to visit us in the following stone fairs:
1.-Concrete Show in Indonesia booth number is:
6315A (2018)
2.-Marmomac Stone Fair in Verona booth number is:
E4-2 (2018)
3.-World of Concrete Fair in Las Vegas booth number is:
S11345-4 (2019)
4.-Xiamen Stone Fair booth number is:
B3002 (2019)
Diamond Bush Hammer Plate for Concrete Floor Grinding
Diamond bush hammer plates and roller is a construction tool used for texturizing and renew concrete. Floor bush hammer plates can adapt to several kinds of grinder, from simple hand-held hammers to large electric machines, but the basic function of the regular bush hammer is always the same - 30pcs/45pcs/60pcs of conical or pyramidal carbide tips welded at the top of a large metal plate. The repeated hit of these carbide tips into stone or concrete surface creates a rough, pockmarked texture that looks like naturally weathered rock.
Bush hammer plates for concrete can help to increase bonding effectiveness when applying new concrete to an existing concrete surface by increasing the surface area of the bonding zone.
| | |
| --- | --- |
| Product name | Diamond Bush Hammer Plate for Concrete Floor Grinding |
| Tips Number | 30S/45S/90S/99S |
| Tips Diameter | 4.7mm/6.0mm/8.0mm |
| Machine | Husqvarna/frankfurt/Lavina/Fickert machine |
| Application | For Litchi Surface Grinding |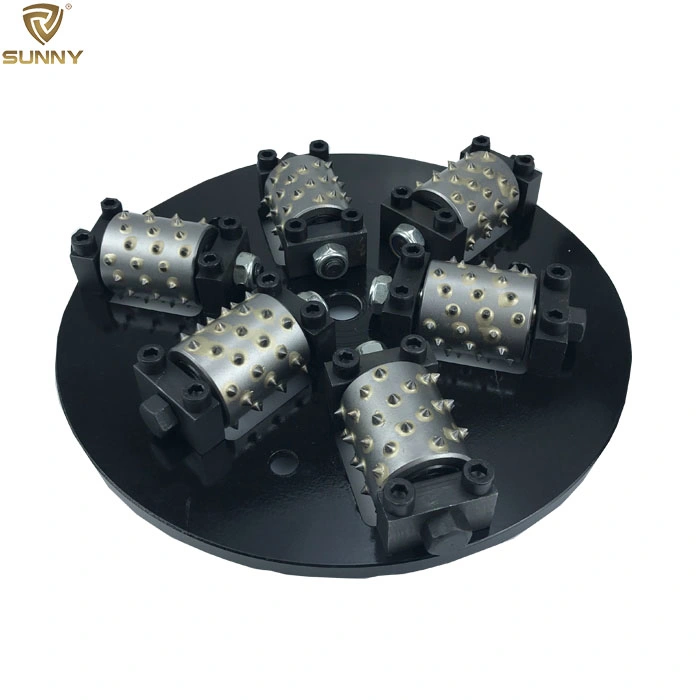 Bush Hammer is used sophisticated welding technology and selecting high quality aluminum alloy to casting, bush hammerer's grit can be changed through the adjustment of spring elasticity on bush hammer, manual grinding machine press. Both enlarging spring's interval to reduce spring elasticity and reducing machine's press can enhance bush hammer vibration to make bush hammered face rough. Widely used on granite, marble sandstone to make rough surface.
ADVANTAGES:
1. Strict dynamic balance inspection to make sure a smooth and comfortable grinding.
2. Durable diamond compound.
3.Competitive price and superior quality.
4.The grit of bush-hammered face can be adjusted.
5. Highly-efficient: a 200mm hammer can yield 100m², 5 times faster than manpower.
6.Fexible : We can sell the roller separately,and we have plenty of styles and specifications ranging.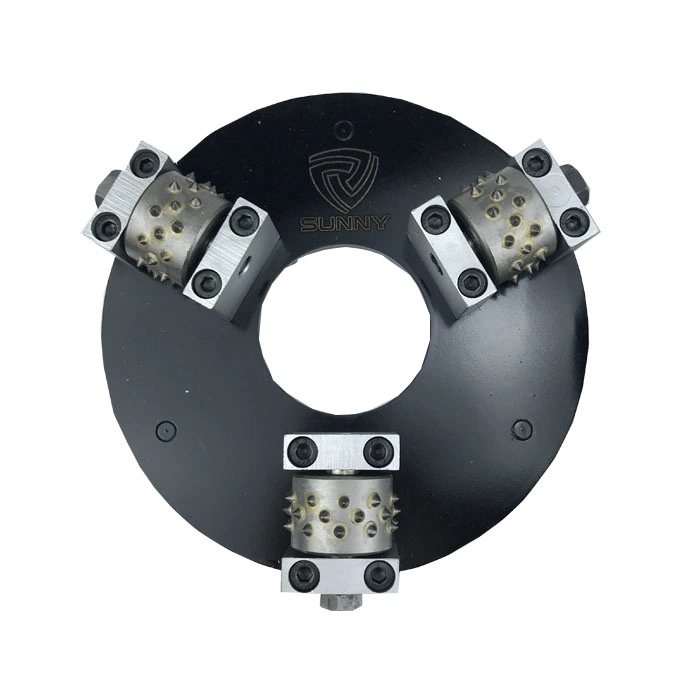 The Roughness of the bush hammered surface can be adjusted with our bush hammer through adjustment of spring elasticity on the bush hammer, or through the pressure of the manual grinding machine. Loosening spring elasticity or lessening pressure with increased roughness of hammering will result and tightening the springs or increasing machine pressure will reduce roughness to give the bush hammered surface a finer look.
Bush Hammer:
1. Make safety anti-slip surfaces on natural stones.
2. Remove old glue and resin coatings, in particular thick resins.
3. Scarify any kind of surface and create antique surface.
4. For floor preparation before laying new coatings.
5. Expose the aggregate in concrete floors to prepare for concrete polishing.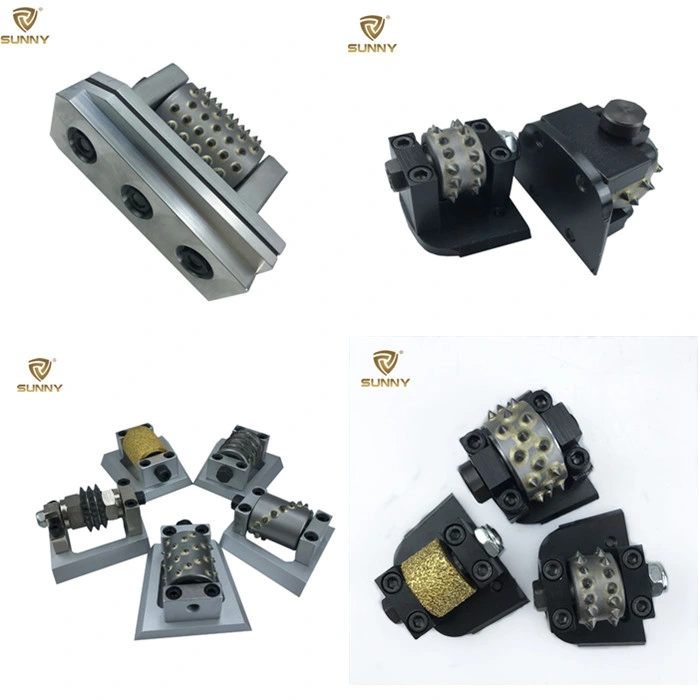 FAQ:
1. What is the minimum order we should buy?
Normally the MOQ of bush hammer is 1pc.
If the total weight reaches 21kg, you can get the best offer from the express company.
2. How could we know the quality of your bush hammer plate?
You can buy our bush hammer plate with a small quantity first, testing our quality and service. For small quantity, you don't need to take the risk in case they don't fit your market. To support you test our products, we offer you a discount on the sample order.
To provide you the most suitable bush hammer, please confirm all the technical details with our engineers before you place an order.
3. If your bush hammer are not in satisfactory performance, what should I do?
Please get in touch with our engineer, give us feedback, we will give you a satisfactory solution. Meanwhile, we will send you a free sample for the second testing.
We have more bush hammer for your option: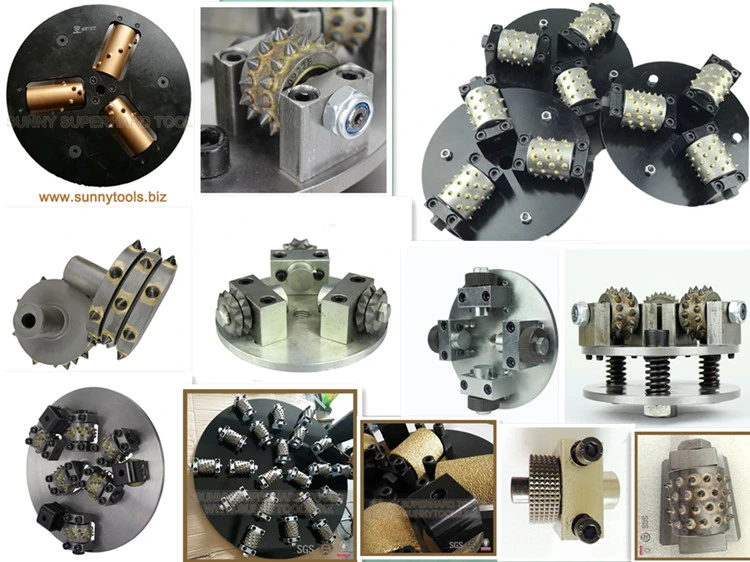 About us:
Quanzhou Sunny Superhard Tools Co., Ltd are specialized in

diamond tools

manufacture with long history.

Our main products including:
1. Cutting Tools (Saw blade, Wire saw, Diamond segment,diamond grinding segment...)
2. Grinding Polishing Tools (

bush hammer,diamond bush hammer,bush hammer tool

,diamond grinding plate,diamond grinding shoe,diamond floor grinding tools,diamond polishing pad,Calibration roller, diamond fickert, diamond Frankfurt, diamond grinding Cup wheel, Profiling wheel...)
3. Drilling tools (diamond Finger bit, diamond core drill bit.....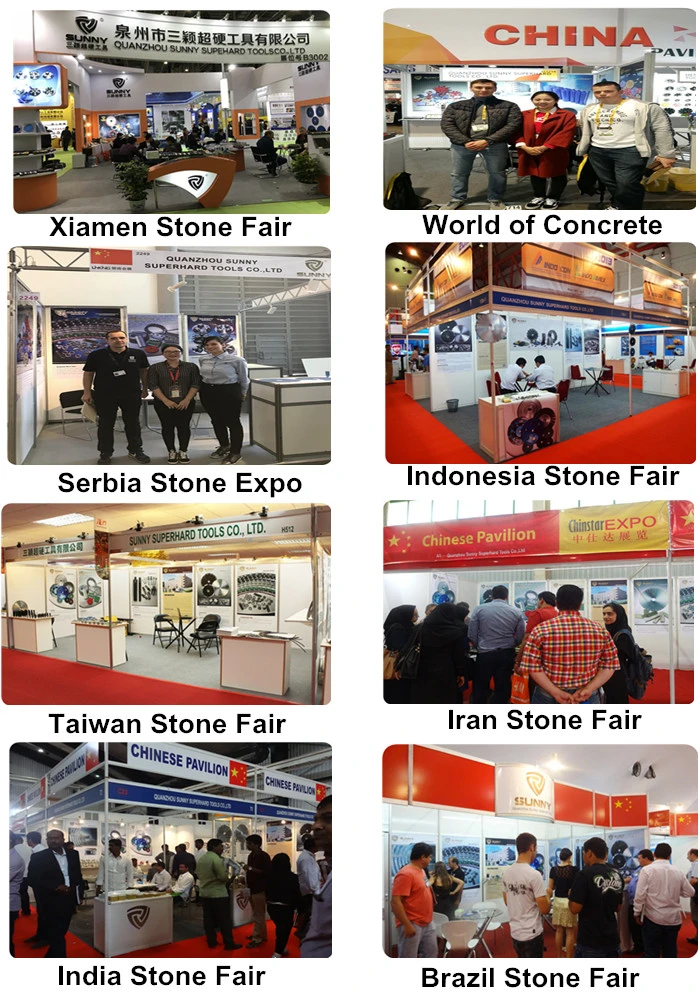 Please send us message for m
ore details,thank you for your cooperation!