Horizontal wheel head moving surface grinder(M7163)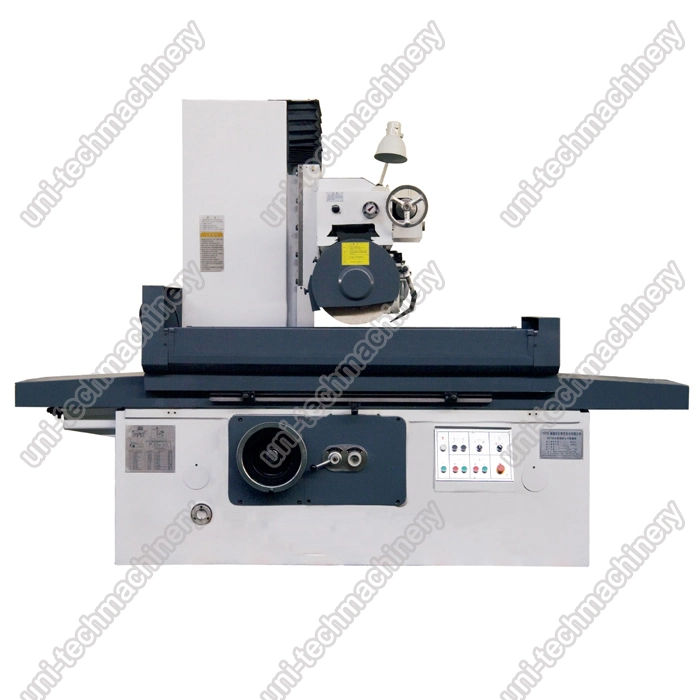 MAIN FEATURES:
1.Wheel Head moving, Horizontal spindle, suitable for heavy-duty cutting
2.Grind wheel head spindle front end adopts shell bear bearing support, rear end adopts Roller bearing, with high rigidity, specially for heavy-duty cutting.
3.Transmission: Worktable adopts one flat and one V guide ways, driven by hydraulic with smooth movement.
4.Grinding wheel adopts two sets of guide way, one is flat guide way for up/down moving.
Another set is swallow tail guide way for back-forward movements, with manual feeding or
Auto-feeding by hydraulic cylinder.


5.The M7130AL

,

M7140A

,

M7150A

,

M7163 series surface grinder adopts the cooler for hydraulic oil tank.The temperature of the oil tank raises little so the thermal distortion of the machine is small.


6. Full lubrication system ensuring all guide ways smooth moving.
Standard Equipment:
wheel flange, balancing arbor, wheel extractor,
coolant tank, working lamp, Tools, wheel dresser stand(not include diamond pen, standard grinding wheel, leveling wedge, leveling bolt, standard magnetic chuck
Optional Accessories:
wheel stand, Coolant tank with magnetic separator, coolant with magnetic separator and paper filter
WORKSHOP
Specification:
Model
Unit
M7130
M7140A
M7140A
x1600
M7140A
x2200
M7150A
x1000
M7150A
x1600
M7150A
x2200
M7163
x1250
M7163
x1600
M7163
x2200
Worktable size(WxL)
Mm
300x1000
400x1000
400x1600
400x2200
500x1000
500x1600
500x2200
630x1250
630x1600
630x2200
Max matching
dimension(W x L)
Mm
300x1000
400x1000
400x1600
400x2200
500x1000
500x1600
500x2200
630x1250
630x1600
630x2200
Max distance between
spindle center line
and worktable surface
Mm
575
600
700
Longitudinal moving
speed of worktable
m/min
5-25
3-27
T-slot number x W
Mm
3x18
3x22
Wheel head
Continuous
feed speed
m/min
0.5-4.5
Cross moving
Intermittent
feed speed
Mm/t
3-30
Hand wheel
feed
Mm/gra
------
0.02
0.01
Vertical
Moving
Rapid
speed
Mm/min
400
of wheel head
Hand wheel
feed
Mm/.gra
0.005
Wheel Head
Power
Kw
5.5
7.5
7.5
motor
Rotation
speed
Rpm
1440
Total power
Kw
8.63
11
13.5
12.25
13.75
15.75
13.75
15.75
Max loading capacity
of worktable
(with chuck)
Kg
470
620
1000
1380
700
1240
1410
1010
1290
1780
Chuck size(WxL)
Mm
300x680
x1
400x1000
x1
400x800
x2
400x1000
x2
500x1000
x1
500x800
x2
500x1000
x2
630x1250
x1
630x800
x2
630x1000
x2
Wheel size
(ODxWxID)
Mm
350x40
x127
400x40
x127
400x40x203
Machine
dimension(LxWxH)
Cm
286x154
x203
311x182
x223
494x182
x223
674x182
x223
311x190
x242
514x190
x242
674x190
x242
399x220
x242
514x220
x242
674x220
x242
Machine Weight
t
3.49
5.01
6.51
7.6
5.78
7.32
8.78
6.86
7.85
9.65