Sharp Diamond Rope Saw Diamond Electroplated Wire
Item
Diamond Electroplated Wire

Application

1.For Stone Quarry, Block Squaring & Chamfering, Profiling Cutting

2.For Reinforce Concrete Cutting

Compose
1, a carrying wire out of steel
2, diamond beads
3, rubber / plastic / spring coating

Specification

Diameter

7.2mm, 8.0mm, 8.5mm,9.0mm,11.0mm,11.5mm

Beads/meter
40, 39, 37, 33, 28, 26 pcs/meter
Coating

Plastic, Rubber, Spring, Rubber+Spring, Plastic+Spring

Production Technology

Sintered, Electroplated, Vaccum Brazed

Attention

1. Checking the saw regularly and adjust timely.
2.Checking the pearl abrade regularly,Avoid the eccentric wear
3. Checking the joint regularly and adjust timely.
4. The tension of ropes is 250-300kg(Φ4-5mm ropes)
5. Water supply is around 15-25L/min

Feature

1.Very less breakage ratio when using therefore increase the working lifetime.
2.Automatic production ensures stable quality performance.
3.Safe, high efficiency and environment protecting.
Service
OEM, ODM, Customized
| | | | | | |
| --- | --- | --- | --- | --- | --- |
| Diameter(mm) | Applications | Coating | Bead/meter | Cutting Speed(m2/h) | Wire Life(m2/meter) |
| Φ11.5/Φ10.5 | Reinforced concrete | rubber+spring | 40 | 0.5-5 | 0.5-8 |
| Φ11.5/Φ11.0 | Granite mine/quarry | rubber/rubber+spring | 40 | 2-12 | 7-22 |
| Φ11.5/Φ11.0/Φ10.5 | Marble mine/quarry | spring/spring+plastic | 28-40 | 4-20 | 15-50 |
| Φ11.0/10.5 | Granite & marble block | plastic/rubber | 37/40 | 6-30 | 7-50 |
| Φ8.8/Φ8.5 | Granite&marble profiling | plastic/rubber | 33/37/40 | 7-30 | 7-40 |
| Φ7.2/Φ8.5 | Granite slab | plastic | 37 | 0.5-1.6 | 6-15 |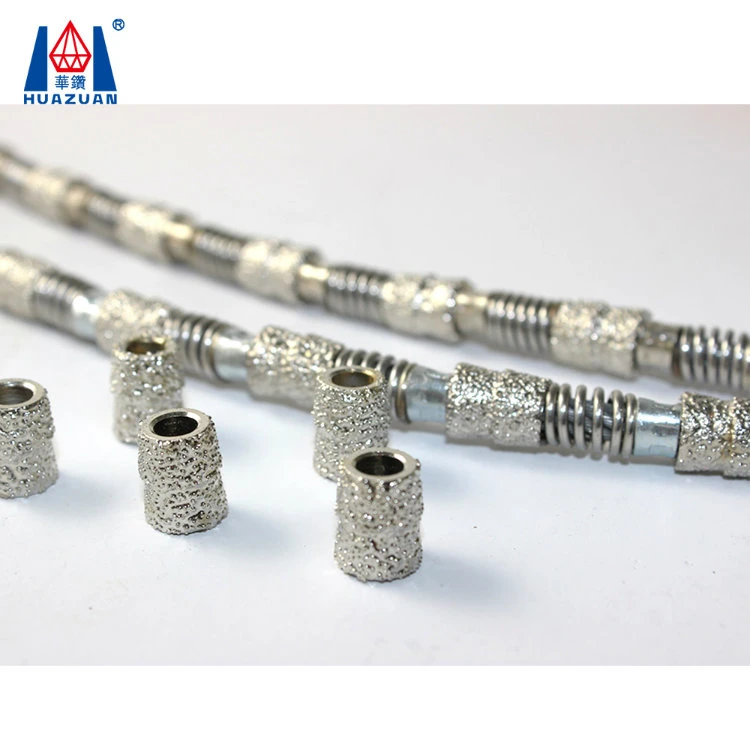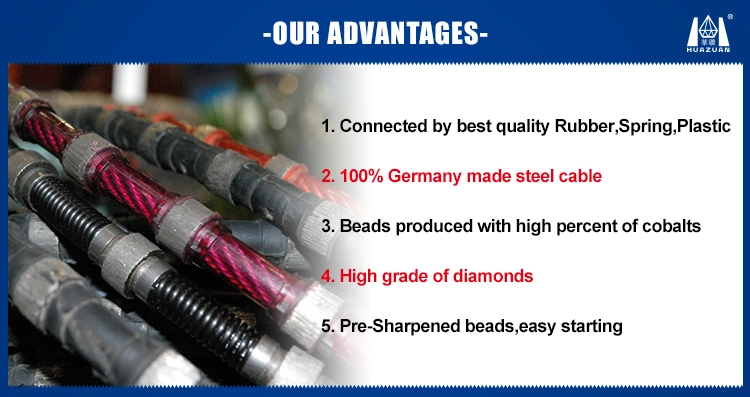 1.Diamond Wire Saw For Quarry:
We recommend rubber wire,it can protect the wire saw rope very well and increase the wire's strength.

The rubber has good temperature resistance, and it can be used when water is not enough.

Strong flexibility can reduce the cut-in-one-side problem.

2.Diamond Wire Saw For Block Dressing:
We recommend plastic wire,it can be used to dissect marble granite.
It can cut accurately with small inter-space.
It can cut the block with the thickness of 2.3M

3.Diamond Wire Saw For Profiling :
We recommend plastic wire for shaping operations provides a huge range of possibilities
It makes smooth surface, and accurate sizes with small inter-space.
Columns and elements for the building industry can be produced in much more economic way.

4.Diamond Wire Saw For Reinforce Concrete Cutting:
We recommend 10.5/11.5mm Rubber and Spring wire.
The wires are widely used in the reinforced concrete with more than 5% steel inside.
Used in the building constructions, cutting for houses,bridges,cement pipes and under waster buildings.

5.Diamond Multi-Wire Saw For Slab Cutting:
Diamond multi-cutting wire saws are suitable for cutting the different kinds of large granite slabs
Remark :modern gang saw can produce in a month 3000 to 4000 square meters of slabs of 2cm thickness
The multi-wire can produce 5000 to 6000 square meters of slabs cut at any thickness between 1 to 5 cm.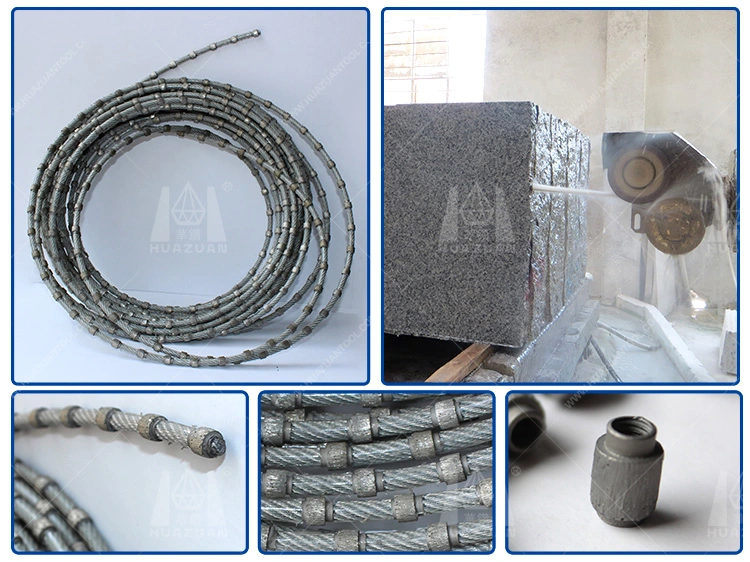 Company Information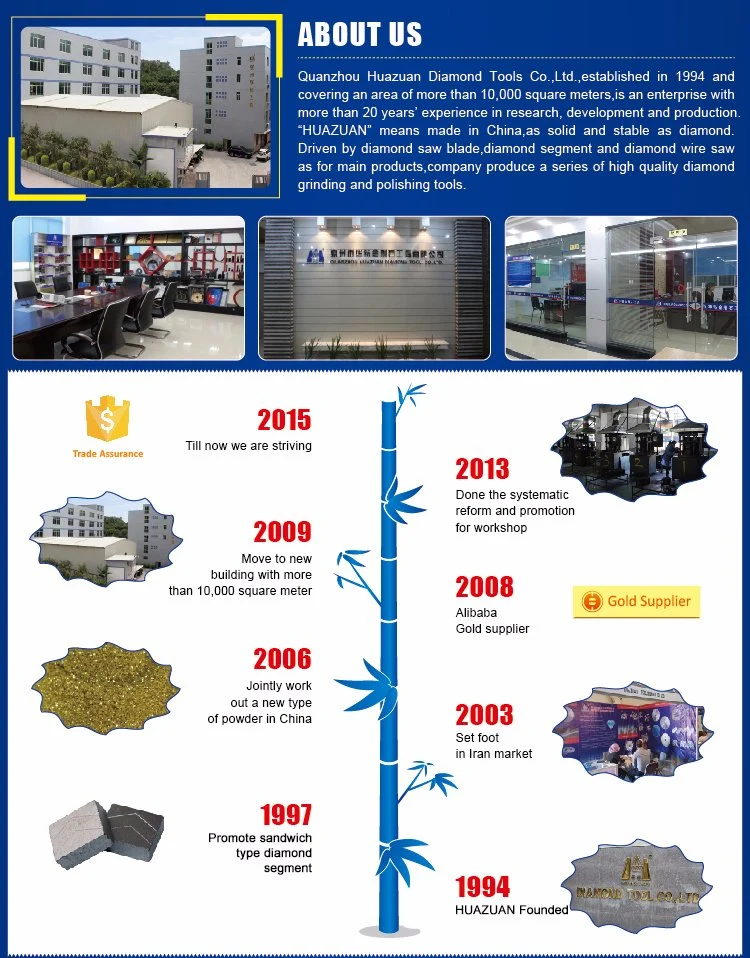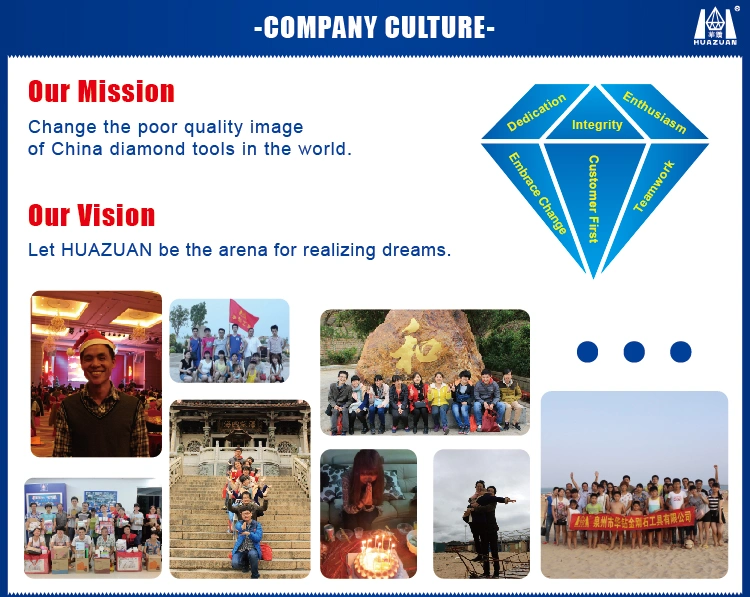 Diamond Wire Saw Packing



FAQ of Diamond Wire Saw
What is the maximum thickness of concrete granite stone etc you can use your wire saw cut?
Depending on the process, Diamond can saw various thicknesses, for example:
Wall saws will typically cut concrete or masonry up to a thickness of 24 inches. In the event that the wall to be cut can be accessed from both sides, a total thickness of 48 inches can be sawed.
Slab saws will typically cut up to 24 inches deep through concrete, asphalt, or brick paving. When thickness exceeds these depths Diamond is equipped to create openings with wire saws.
With a wire saw depth is or thickness is unlimited. Wire saws are capable of cutting through press bases, concrete foundations, reactor vessels, stainless steel, and more.
Contact Us!
Fujian Quanzhou Huazuan Diamond Tool Co., Ltd.
Add: Miaoxia, Fengzhou, Quanzhou, Fujian, China.
Tel: +86-595-86780371
Fax: +86-595-86780372
Web: huazuantool.en.made-in-china.com

Attn: Jane Huang
Mob: +86-13559049130