Glass Edge Polishing Cup Diamond Grinding Wheel full segmented diamond grinding wheel

| | | |
| --- | --- | --- |
| Item No. | Name | Description |
| PB-S&D01S | Segmented Diamond Wheel | 175*15*10 |
| PB-S&D01H | Segmented Diamond Wheel | 175*15*10 |
| PB-S&D01S-1 | Segmented Diamond Wheel | 150*15*10 |
| PB-S&D01H-1 | Segmented Diamond Wheel | 150*15*10 |
| PB-S&D02S | Segmented Diamond Wheel | 175*15*10 |
| PB-S&D02H | Segmented Diamond Wheel | 175*15*10 |
| PB-S&D02S-1 | Segmented Diamond Wheel | 150*15*10 |
| PB-S&D02H-1 | Segmented Diamond Wheel | 150*15*10 |
| PB-S&D03S | External Turbo Diamond Wheel | 175*15*10 |
| PB-S&D03H | External Turbo Diamond Wheel | 175*15*10 |
| PB-S&D03S-1 | External Turbo Diamond Wheel | 150*15*10 |
| PB-S&D03H-1 | External Turbo Diamond Wheel | 150*15*10 |
| PB-S&D04S | Internal Turbo Diamond Wheel | 175*8*12 |
| PB-S&D04H | Internal Turbo Diamond Wheel | 175*8*12 |
| PB-S&D04S-1 | Internal Turbo Diamond Wheel | 150*8*12 |
| PB-S&D04H-1 | Internal Turbo Diamond Wheel | 150*8*12 |
| PB-S&D05S | Continuous Diamond Wheel | 175*10*10 |
| PB-S&D05H | Continuous Diamond Wheel | 175*10*10 |
| PB-S&D05S-1 | Continuous Diamond Wheel | 150*10*10 |
| PB-S&D05H-1 | Continuous Diamond Wheel | 150*10*10 |
| PB-S&D05S-2 | Continuous Diamond Wheel | 150*8*8 |
| PB-S&D05H-2 | Continuous Diamond Wheel | 150*8*8 |
| PB-S&D05S | Continuous Diamond Wheel | 130*8*8 |
| PB-S&D05H-3 | Continuous Diamond Wheel | 130*8*8 |
| PB-B-01S | External Turbo Diamond Wheel | 150*8*10 |
| PB-B-01H | External Turbo Diamond Wheel | 150*5*10 |
| PB-B-02S | External Turbo Diamond Wheel | 150*5*10 |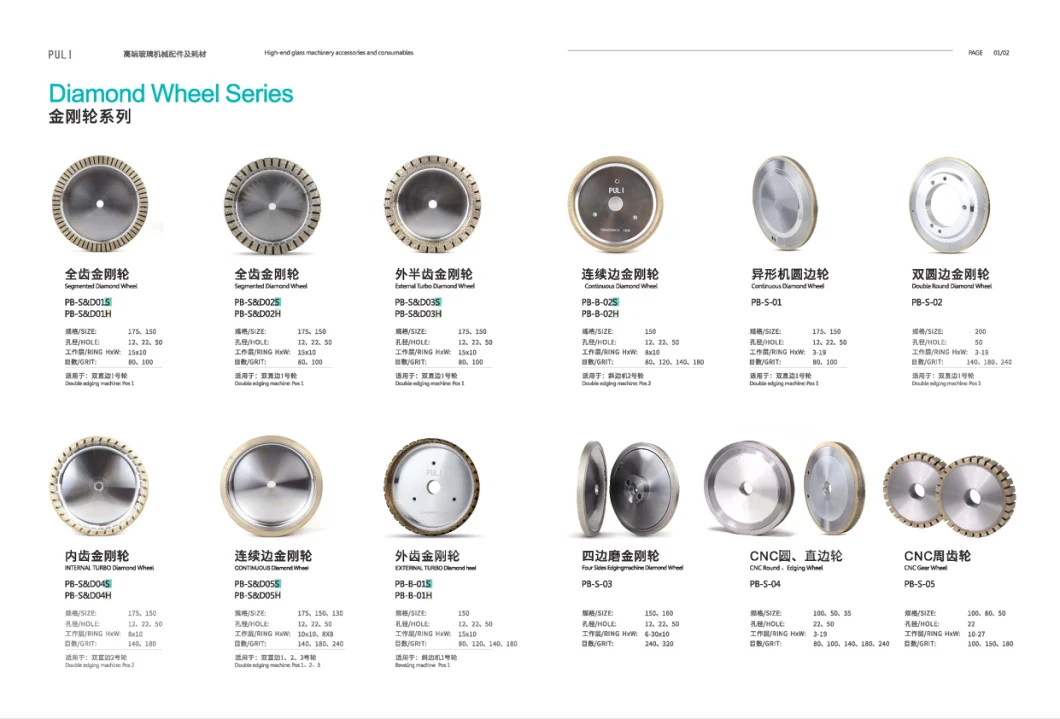 1.Question:Are you a manufacturer?
Answer:


Yes,we are the professional glass processing machines and sapre parts manufacturer, which has 14 years history since 2006.



2.Question: How about the service ?
Answer:
1).24 hours for after-sale serive
2).fluent english ,communication barrier free. Point-to-point service help you solve the problems timely.

3.Question:What's the guarantee ?
Answer:
1). Our guarantee for 12 months.
2). 18 hours' technical support by email, video or calling
3). English manual and video tutorial
4). 24 hours on line service each day, free professional technical support.

4. Question: Do you provide equipment operation training?
Answer:


Yes. We can will send one or two professional technicians (one is electrical engineer, one is mechanical engineer) to install and adjust the machines and help train the workers.



5.Question: Why your price isn't the lowest price compared with others company or factories ?
Answer:
1) We are a innovative enterprises, not only a produce factory. We have a a professional and experienced technical elite team.
2)Compared with the same level brand, we have the same functions and components, but our price is the most competitive. At the same time, our after sales service is satisfactory. We have a good reputation in our customers.